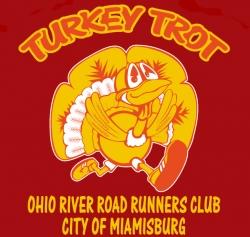 Official Time: 37:08
Division: 3 / 506
Gender: 75/4217
This year was my 3rd time running the Turkey Trot 5 miler... that's enough to now mark it as a "tradition" that my brother, Eric and I will continually take part in as long as we're both in town for Thanksgiving right?!?!
This year there was a lot of hype because:
It was the 35th anniversary of the race
Our Turkey Trot is officially the largest Turkey Trot East of Mississippi with 10,750 runners / walkers
New course that featured a few downhills.
I'm not a fan of racing 5 miles as I go out too fast, die, then pick it back up again in the last mile or so for an attempt to 'finish strong'. This was true for
2010 race
(left- time 40:36) as well as
2012 race
(right- time 38:31)
This year I was hoping to not repeat this pattern (spoiler alert, I did), but also I wanted run something in the 37s- no particular time, just faster than the previous year.
As mentioned above this is a brand new course, so despite my superb map reading abilities, I really couldn't get a handle on what it would be like race morning other than its "fast with a few downhills", so I was coming into it with the mindset of everything will be a surprise.
Yes... Eric is wearing the same shirt as the above 2012 photo... no he did not have any starring role in Star Trek.
For those that know me... I like to run practically naked- skirt and tank is my go to. I draw the line and add on the layers when its in the 20s. Today's start line temp was 23 degrees... thats colder than last week's
Route 66 1/2
in Oklahoma. What is even more cray cray is that it was 18 degrees in Nashville- for once its better to be in Ohio than TN.
Eric picks me up at 6:15 to avoid traffic and we managed to park about 1 mile away from start line. As we're sitting in the car, one of my middle school / high school friends, Laura, bangs on the door to say Hi before she picks up her packet. Next year, Eric and I are totally going to do race day pick up vs. fighting the crowds the day before- ridiculous.
We managed to cycle through bathrooms (no line) and head up the hill to start with 45 min to spare. That much time standing around in the freezing cold is not fun, nor do I plan to arrive this early as there was nothing to do. I did manage to watch the beautiful sunrise....
.... as well as run into my cross country coach of 4 years- Coach Russ (I love running into blasts from the pasts when racing at home)
Mile 1- 6:45
Despite starting in the first corral (there were 4 this year which included an elite corral, under 30 min), it was crazy congested the first 3/4 of mile and I couldn't have gone faster even if I wanted to due to all the bobbing and weaving. Unfortunately as I was acquiring satellites I realized my watch developed a mind of its own and changed the settings- I wasn't able to see my pace until a mile was clocked.There was a slight but long down hill toward the end of the first mile. I love downhills, however with the cold it was really prohibiting opening up my stride, so I was starting to get discouraged that I wouldn't be able to beat last year's time since I calculated I was running in the 8s. Unfortunately as I was acquiring satellites I realized my watch developed a mind of its own and changed the settings- I wasn't able to see my pace until a mile was clocked- I was utterly shocked when I saw my first mile time.
Mile 2- 6:41
I do feel like I'm going too fast, but again no idea my pace. There was another downhill in this mile which I tried to coast and then the rest was relatively flat. Field was starting to spread out which made it nice to have a few people in front of me to judge my pace in relation to them. After the 2nd mile I realized I would really have to screw things up not to hit my goal.
Mile 3 - 7:48 & Mile 4 7:47
I died- the end. I had to stop to tie my shoe (3x this race, mile 3, 4, and 5) and in doing so my legs decided to rebel and would not turnover. We reached the pancake flat out and back part of the course which I always find surprisingly difficult to run on all flat surfaces for longer than a mile (Welcome to Nashville!) It was nice to see all the runners on the back portion, however I kept experiencing that self doubt talk "I want to be taking it 'easy' like some of them, maybe next year I won't try to race it" Despite the thousands of runners, I did manage to spot Eric, he did not return the recognition and didn't respond to my calls.
Mile 5- (slowest mile) 7:55
Surprisingly we had 2 slow uphills in the last mile- cruel to have 2 downhills at the beginning and then save the hardest mile for last. There was a lot of winding around a driveway until we could finally see the finish line in the distance. Still couldn't turnover very well, so instead of a giant kick I just tried to pick up the pace slightly. There was a girl "racing me" and I wanted to turn to her and say "its okay, i'm in the Dame division, no need to race"... she wouldn't let up, but I think she realized she picked up too soon and I pulled ahead. I crossed the finish line with time of 37:08. Although excited, had I known I was 8 sec from breaking 37 I would have picked it up sooner or maybe only taken 2 tie shoe breaks instead of the 3rd in the last mile.
I ran back about 400 meters to wait for and cheer on Eric - captured this gem of him getting beat by a youngster ;)
Ran into Laura while searching for Eric and we all walked the mile back to our cars. No frills, no after party, run and done.
Later that afternoon I checked the results and I got 3rd in my division... beat out the 4th place girl by 3 sec, wowzas. Last year unbeknownst to me I had placed 4th in my division and only realized it when a month later I received a plaque... I checked the rules and I guess top 5 get awards- doesn't make me feel as special but I'll take it!
Although there isn't a lot of excitement with this race there a few things that keep bringing me back:
Oppty to run into people I haven't seen in years- every year I spot a friend and am able to catch up whereas otherwise I wouldn't really have oppty to do so.
My brother is willing to do this as well so its a nice brother / sister bonding time to share in the woes and triumphs of the race.
I can continually improve. Since I don't race the 5 mile distance, the only races I've done for this distance have been this one. Each year I am able to run faster and its definitely a self-esteem boost to continually see improvement.
I'll be back for 2014 aiming to run low 36s / high 35s. I would say that probably my favorite aspect of this race is that I keep doing it. I can always compete against myself and continually improve each year. I'll be back again for 2014 and will definitely be aiming to run low 36s / high 35s.
Did you race a Turkey Trot this year?