1. Registration complete!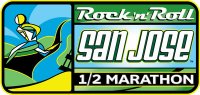 This will allow me the below medal for the
Heavy Medal series
Dear Lisa Jameson,
Congratulations! You are now registered for the 2011 Dodge Rock 'n' Roll San Jose Half Marathon - Half Marathon. Please check the event's website for updates.

Please note: Each participant must pick up their own race number at the Health & Fitness Expo presented by Power Balance. Go to the Expo page of the race website or times and location of the Expo.




Good luck with your training!

Cytomax, official on-course electrolyte drink.

GU, official on-course energy gel.





Dodge

Rock 'n' Roll San Jose

rnrsj@competitorgroup.com

Registration Details
2. Got my roundtrip air fare from Nashville to San Francisco (my family will be making the drive from San Jose to come get me!)
Flight Summary

From:
Nashville, TN , US (BNA)

To:
San Francisco, CA , US (SFO)
Depart:
Thu, Sep 29, 2011
09:05 am - 01:59 pm (1 Stop)

Return:
Tue, Oct 04, 2011
10:46 am - 06:26 pm (1 Stop)
Airline Confirmation:
Frontier Airlines : JHQBYX Select Seats

Traveler Name
Ticket Number
Meal Preference
Special Request
Awesome, Lisa

(rockstar)

4228708526660 E-Ticket

Any meal

—­­­
3. I won this in my Dave Ramsey Core class (new program that they're test piloting to replace financial peace) today for going 'above and beyond' our lessons- woo woo - actually in talks with becoming a facilitator for future classes held in the area!
4. My Vegas Relay Team - "2 Legit 2 Quit" accepted my idea of crazy spandex (finally!) I have narrowed it down to 2 options:
OR
Thoughts?!?!?! Actually might get both because for those who have done a relay- its nice to have clothes to change out of!
5. Last but not least, to make my day extra complete, there was birthday cake! Before you ask, yes, I do monitor my sweets. Right now I'm doing all sugar, fruit, and starches before 2pm. Hard, but manageable and makes a HUGE difference on the waistline :)
Chicago race report coming soon!